If pastels aren't your thing, this nursery color palette may be just what your looking for. Indigo blue may be a dark color, but blue in any shade is peaceful, and the indigo walls have a feeling of security. Mix that with the softness of light gray and pink and you have a good balance.
The focal artwork is a large diptych with sculpted dahlia flowers. You can hang canvases separately when you transition to a big kid room if needed.
Not comfortable hanging a canvas above your crib? Make a statement with wallpaper instead.
Perhaps you live around earthquakes, and don't want to risk your artwork falling above a crib. You can hang your focal art above a dresser on another wall and hang an eye catching wallpaper pattern behind your crib. 
This classic geometric trellis pattern is great for a nursery you plan to adapt to a big kid style rather than totally redecorate. 
Mix a light an airy pattern with soft and cozy minky fabric, and you have a fantastic blanket for your nursery rocking chair.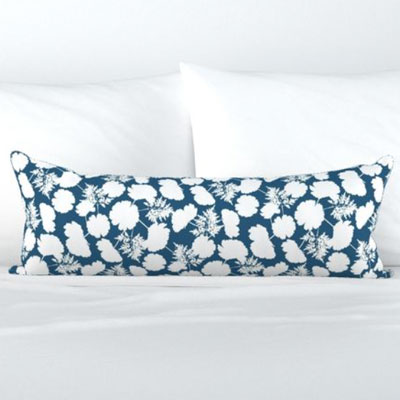 Grab this versatile pillow for rocking chair back support, nursing, baby tummy time, and later to sit up in a big kid bed.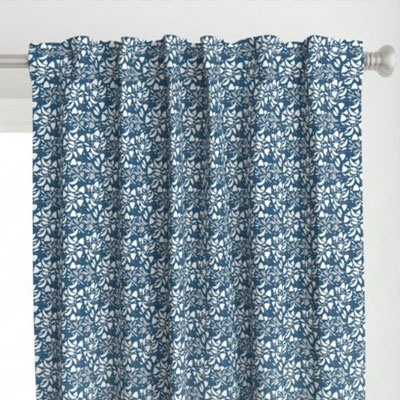 The stylish, abstract pattern on these curtains will transition nicely from nursery to big kid room. 
Transitioning to a Tween Girl's Room
An indigo and pink nursery will last much longer than a pastel nursery. The energy of the bolder colors will fit well with a toddler and big kid room. But after a decade you may want a fresh look, even if you don't want to redecorate the entire room.  
When you transition to a tween girl's room adding bold accents, like green apple and teal, can transform the nursery look into a more fun and vibrant style.
A 24″ X 24″ artwork will fit nicely over a student desk or narrow dresser. 
If you are converting a crib into a toddler or full size bed, the painting that fit above a crib will still fit.
Switching to a twin bed?
The painting that once fit well above your changing table is now a better fit for a twin bed. Move the painting from above your crib to hang above a double dresser. 
Find more ideas to coordinate an indigo, aqua, gray, and pink nursery with Amborela on Pinterest.