Mix and match your nursery décor with Amborela's woodland flora and fauna coordinates. Decorate with curtains, pillows, wallpaper, and even original canvas art from the collection to create a cohesive look throughout your nursery. 
Surface Patterns in 3 Colorways
Choose from three colorways of matching coordinates to decorate your nursery. Each colorway includes a cheater quilt, jumbo wallpaper scale, large upholstery scale, ditsy floral, border, and geometric prints.
Surface Patterns:
Fabric and wallpaper swatches of Amborela's surface patterns are available at Spoonflower. Beneath your fabric or wallpaper selection you can choose your size. Select the test swatch option to order samples.
Canvas Paintings:
Paint swatches for coordinating nursery canvas art can be ordered here at amborela.com.  Request a Paint Swatch for Canvas Art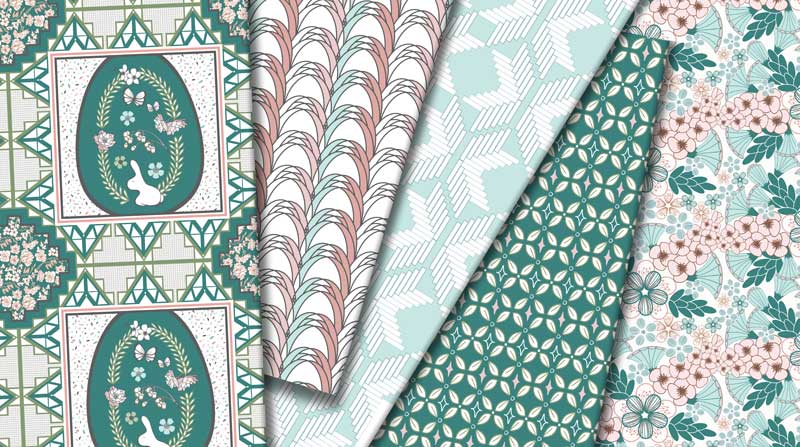 Create this look with Amborela's chevron patterned wallpaper design of French gray and blush pink crocus flowers.
Coordinating Teal and Pastels Nursery Décor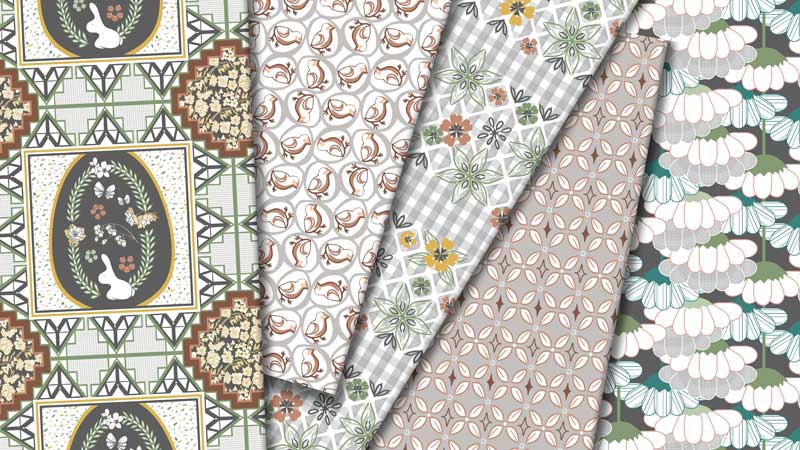 Create a unique look in your earth toned nursery by mixing Amborela's patterns with neutral canvas art.
This wallpaper pattern is formed with leaf line art and diamonds to create a less formal geometric pattern that is right at home with a farmhouse style nursery.
Coordinating Earth Toned Nursery Décor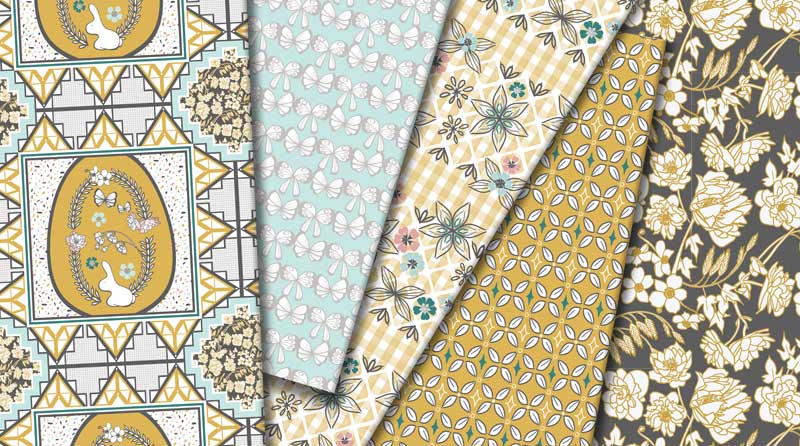 Craft your own bunting to match your nursery décor with Amborela's preprinted pattern. No sew project.
Create a stunning focal wall in your nursery with bold, jumbo scale wallpaper. The stylish geometric pattern and rich color will transition from nursery to big kid room and beyond.
Coordinating Yellow and Gray Nursery Décor
Find more nursery color palette ideas with Amborela's collections of fabric, wallpaper, and canvas art coordinates.