This baby girl nursery coordinates peony pink with three shades of brown; khaki, clay, and earth brown. You can easily transition this soft baby color scheme into a toddler/big girl room with the addition of brighter accents like teal blue, gold, or wine red.
This flower painting works well with white, ivory, and walnut furniture finishes. As a set, this canvas size fits above a changing table. But they can hang separately as accent art. This will give you flexibility when you replace the changing table in a big girl's room.
Not comfortable hanging a canvas above your crib? Make a statement with wallpaper instead.
Hang this large scale wallpaper pattern behind your crib. The stylish diamond pattern will look great even when you change to a big kid room.
Amborela's Coordinating Surface Patterns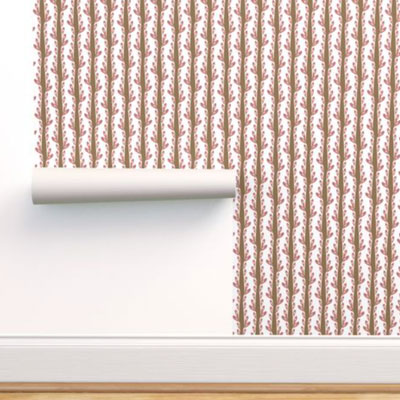 This bamboo stripe pattern is stylish enough for a nursery you plan to adapt to a big kid style in a few years.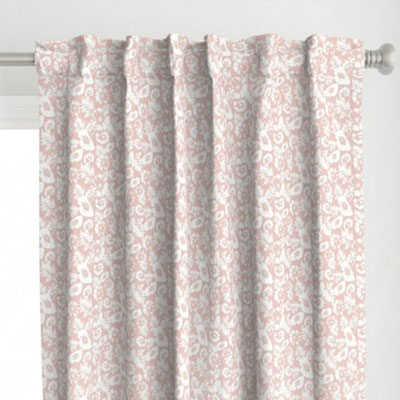 Theses light an airy curtains feature white silhouettes of cosmos flowers against a pink background .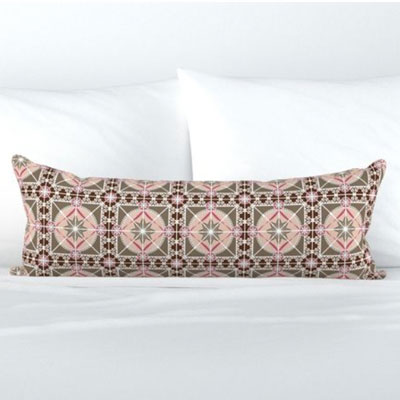 Quilt squares don't have to be used on a blanket. This bolster pillow is boho chic with geo patchwork in pink and brown.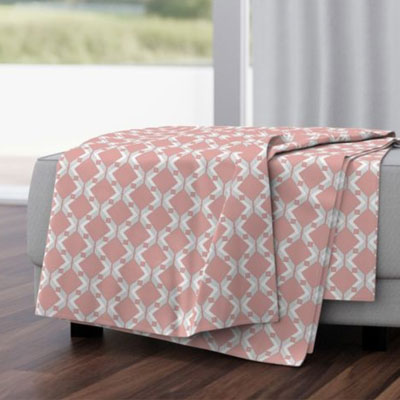 The stylish, abstract pattern on this throw blanket will transition nicely from nursery to big kid room. 
Transitioning to a Big Kid's Room
Your soft pink nursery will only last a short time before you need to update the décor for a big kid room. But you don't have to redecorate the whole room to get a new look. Amborela's stylish art uses classic nature themes that transition well from baby to big girl décor. 
When its time to update to big girl décor, adding colorful accents, like fruit punch, aqua, or metallic gold, can transform the soft nursery look.
Adding additional and more vibrant hues to the existing color palette can be done with small accent art, the bedding, and student desk decor.  
If you are converting a crib into a toddler or full size bed, you will use the same headboard. The painting that fit above a crib will still fit.
Switching to a twin bed?
The 32″ X 20″ painting that once fit well above your changing table is now a better fit for the twin bed. Move the 50″ X 20″ painting from above your crib to hang above a double dresser.