How to Hang Amborela Artwork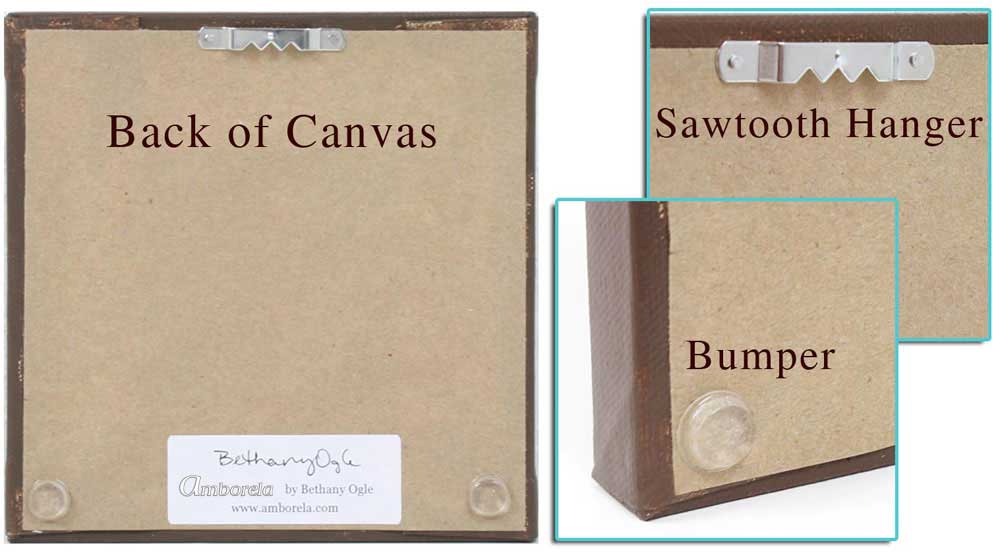 How to Use Hanging Hardware
When your Amborela artwork arrives, it will come with an installed sawtooth hanger, paper dustcover, and bumpers on each bottom corner. You will need a nail, metal hook, or 3m picture hanger to hang the sawtooth hanger from.
At minimum you will need nails, hammer, and level. You may want additional tools shown below to make hanging your artwork easier or more secure.
How to Hang your Amborela Wall Art Securely
Step 1: Install the nail at a 45 degree angle into the wall where you have marked. You can use a small picture hanger to help guide the nail at the proper angle.
Step 2: Hang the canvas and set a level on top edge to straighten.
Step 3: Gently press bottom corners to help bumpers keep canvas straight.
Pro tip:  In high traffic areas you may find yourself repeatedly straightening your artwork, even with bumpers. Replace bumpers with 3M picture hanging strips and your artwork will stay straight.
Most Amborela paintings are lightweight enough to use a 5 lb capacity Command picture hanger. Make sure you follow 3M directions and let hanger stick on wall the full time without weight before adding canvas. Only use on a non-textured, non-gloss, clean wall surface.
These precautions apply to Amborela art because it is lightweight (approximately 1-3 lbs/canvas). Additional and different safety precautions apply to art purchased elsewhere that might be heavier, use different hanging hardware, or contain glass. Remember that you are ultimately responsible for safety when you hang items on your walls.
Don't hang artwork within reach of a child
If you hang artwork above a bed, crib, changing table, or sofa, it is essential to use your good judgement on safety. A wallpaper focal wall may be a better alternative in your situation.
Always install your nail at a 45 degree angled when installing in drywall. You can replace bumpers in bottom corners with 3M picture hanging strips as an added precaution.
Do not tamper with the sawtooth hanger. Prying it outwards to make hooking it onto the nail easier will make it less secure on the wall.
Do not replace the sawtooth hanger on Amborela art with a 3M picture hanging strip. The strips are strong, but the paper dustcover will pull away from the back of the canvas causing the artwork to fall. For nail free hanging, use the similarly named 3M picture hangers that hold the sawtooth hanger.
The bumpers that come installed on Amborela paintings work pretty well to keep canvas art from becoming askew. But in high traffic areas or where walls shake from planes or trains, using 3M picture hanging strips as bumpers is even better. 
You don't have to constantly straighten canvases. And if you're straightening a split canvas (triptych) all the time these strips are huge stress reducers.
The "Hang & Level" tool simplifies the placement of artwork. If you don't have the patience for measuring, you will love this tool. This stress-free way of hanging artwork is so simple, you will use this tool for all your wall art, not just your 3 piece wall art and gallery wall arrangements.
Start by hanging the central piece to your triptych or gallery wall and move on to the outer pieces.
Get Inspiration for Your Gallery Wall Project: Amborela Pin Board
Find Art to Hang in Your Home
Hang Amborela art all throughout your home! Amborela paintings are lightfast and sealed so they are touchable and resistant to humidity and light damage. So go ahead and hang Amborela art in your bathrooms, busy hallways, children's playrooms, and more. 
Entryways and hallways are high traffic areas where art is likely to become askew daily. Use the tip about replacing bumpers on bottom with 3m picture hanging strips.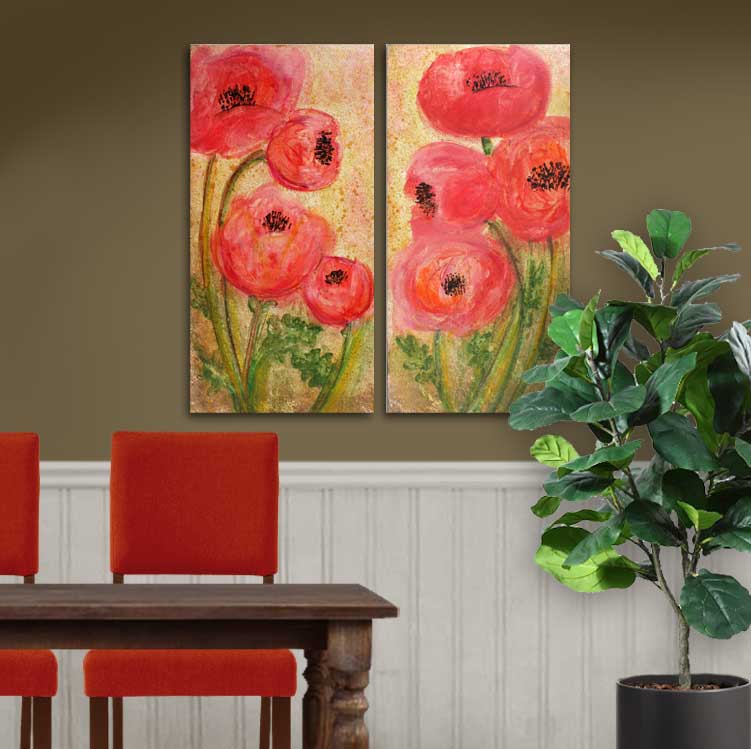 Hang your kitchen art away from heat of stove and water from sink. Choose a wall in dining area, pantry wall, or open area instead.
Expect the unexpected when hanging art in a kid's room. While You may want to hang art above a dresser instead of a headboard. 
Compare canvas sizes that fit above standard nursery crib, changing table, and dressers.
Compare canvas sizes that fit above living room sofas, bookshelves, and dining tables.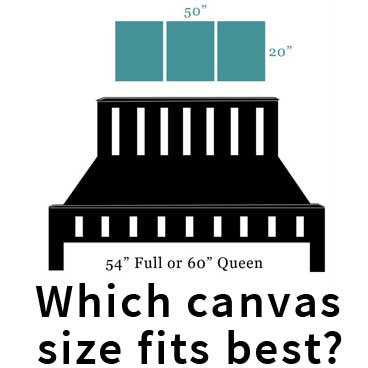 Compare canvas sizes that fit above common bedroom furniture. Includes dressers and twin, full/queen, and king size beds.
Compare canvas sizes that fit above student desk, office desk, and filing cabinet. From huge corporate art to tiny art for cubicle décor.
Not comfortable hanging canvas art above a crib, bed, or sofa? Make a statement with wallpaper instead.