Compare canvas sizes for your living room wall art that are in proportion to common furniture dimensions. For large open spaces where you want to hang artwork without furniture below, cut the canvas size your considering from craft paper. Then tape the paper to your wall so you can visualize how the wall art will look in your living room.
The diagrams below show the recommended canvas size for a focal point in your bedroom. Other sizes shown are good fits that are in still in proportion to the bedroom furniture.
Which Canvas Size Fits Best Above a Sectional?
Sectional sofas come in a wide variety of widths depending on how many they seat and custom options. Measure your sectional before comparing to the 102″ sectional in the diagram. Your best canvas size may be different if your sectional is larger or smaller.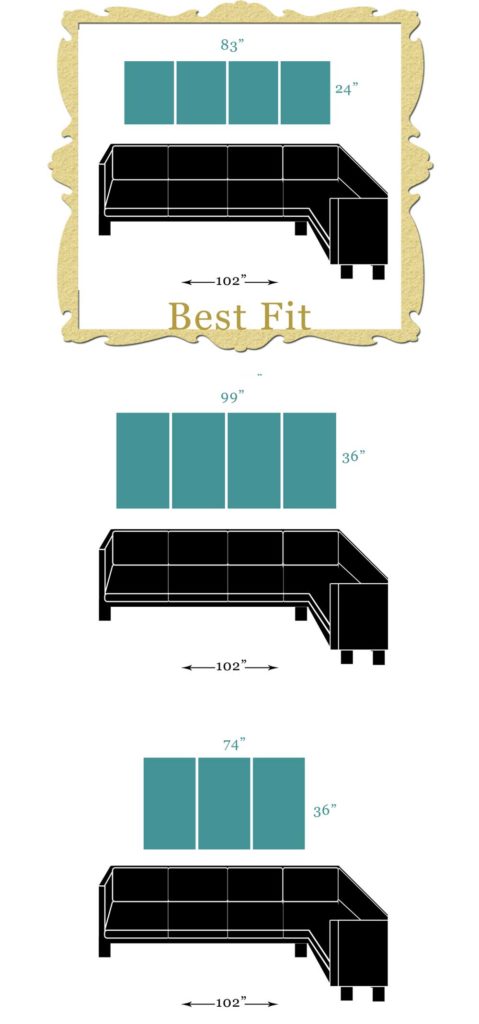 If your living room is open concept with space for a dining table, you could choose to create a focal point behind your table instead of a sofa. Tables come in all sizes. You'll need to measure your dining table and choose a size on the canvas size chart with a slightly smaller width. The sample table fits 2 chairs per side and is in proportion with a large 50X20 painting.  
If your open concept living room is squeezing in room for a desk, it's probably not your focal point. But a colorful accent painting can cheer up your work area. If you need all the motivation you can get to deal with family paperwork, making the area bright and inviting can help.  
To look in proportion to your living room furniture, a focal artwork should be a little smaller than the furniture it hangs above. A standard sofa is 86″, but you should measure yours, because there are other sizes. In the example shown above, the couch needs at least a 62″ W painting to create a focal point.
Accent art can be at least 1/2 the width of the furniture beneath and still look in proportion. For example, a 32″ wide dresser could look good with only a 16″ W accent painting.
You don't have to hang canvas art behind your couch to make a big statement. Modern day removable wallpaper is easier than ever to hang.  
If you find the perfect canvas art for your living room, but need it in a different size, let me know. Most paintings at Amborela can be adapted to a different size or layout.  
 Let's discuss the possibilities…