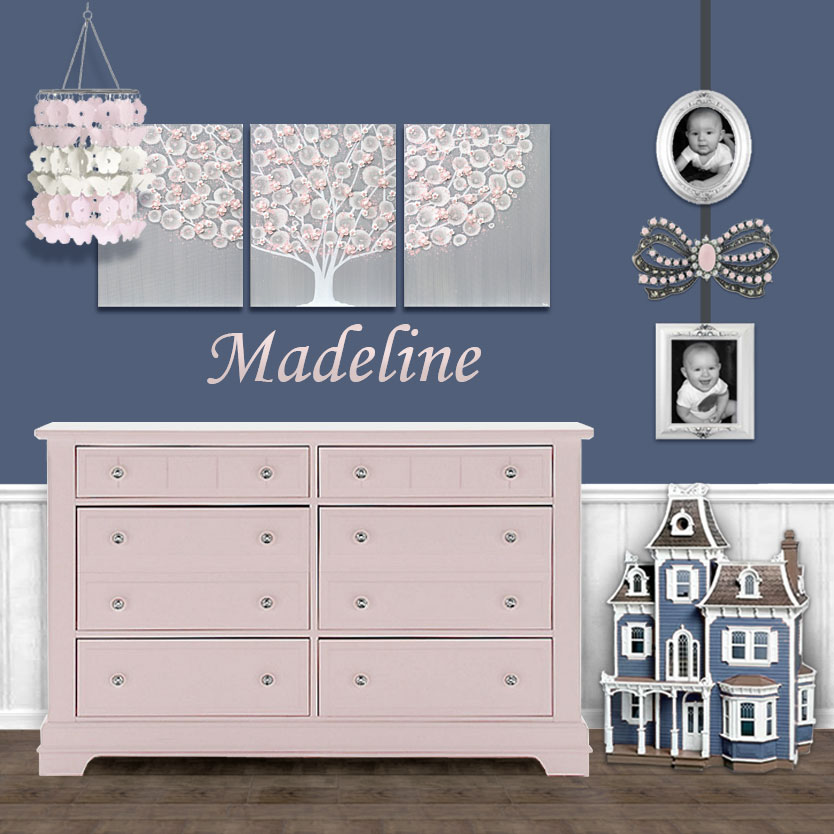 Add Faces to Your Nursery Gallery Wall
Baby's love faces. But they especially squeal with delight when they see faces of people they love. Photographs of baby and family are great additions to a nursery gallery wall. An added benefit of photos is that they are easy to switch out with new images to keep your wall interesting. But you can add faces to your nursery gallery wall in other ways too. You can add portrait silhouettes of your family, paintings of faces, and even abstract faces.
Hang Your Nursery Gallery Wall in View of Your Changing Table, but Not in Baby's Reach
Art can be an interesting distraction during fussy diaper changes. Soon a toy in your baby's hand, just won't be enough to keep them occupied. Having a visually interesting artwork in view is one more tool to keeping baby content. Just remember to hang art where your child can't reach it. Use wall decals to help fill the space within your child's reach.
Switch Out the Art and Photos in Your Nursery Gallery Wall
Rotate your artwork in the same way you would rotate your baby's toys to keep them interested to look at over time. You don't need to fill the entire space with decoration. In fact, too much going on in an art arrangement can be overwhelming to the eye. Setting up a simple arrangement, makes it much easier to pop in new photos to keep things interesting.
Hang a Mobile Above Your Nursery Gallery Wall
Mobiles and chandeliers that you can reach up and set in motion can be entertaining for baby as much as the wall art. Simple mobiles made from leaves, paper cutouts, or ribbons make interesting movements too. Even more exciting (to baby) are the shadows on the wall. You can even set a string of crystals in your window to dance rainbows against your gallery wall. All things that sparkle become interesting to baby, around one year old. Remember to keep mobiles out of reach of baby.