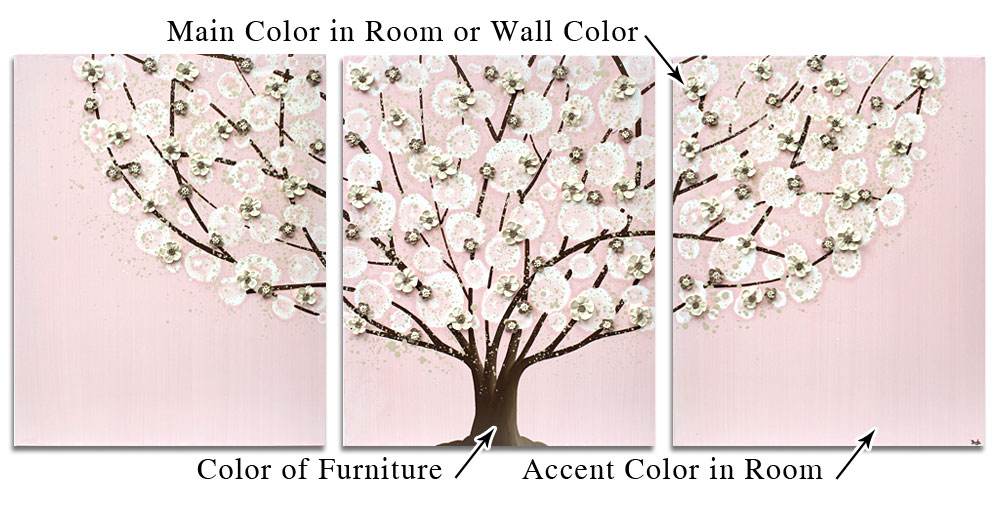 Plan Your Nursery with Colors Inspired by Amborela Wall art
It's easy to use Amborela art as inspiration for your nursery's color scheme with the simple color guide shown above.

If you are just starting to plan your nursery, you may find the "blank slate" of the empty room overwhelming. The possibilities are endless. The first step is to find an artwork you love, that really has the feeling you want to create in your nursery.

A large painting will become a focal point of the nursery, maybe even the first thing you see when you enter the room. If you found a painting you adore, use that focal art as a starting point to inspire the color scheme, mood, style, and theme of your nursery.

Once you've decided on a painting as inspiration, use the tips below to help narrow down your choices for wall color, furniture finishes, and accent colors.
Choose Your Nursery's Main Color
Choose the accent color in your painting as the main color for your room. In this example, the khaki 3d flowers are the accent color.
---
Some paintings have more than one flower color. In this case, either color will work well as your room's main color. If you want a softer, more spacious look in your room, choose the lighter color. If you want a bolder, or cozier look, choose the darker color.
---
The wall color of a room is not always the main color in a room. Especially if most of the wall is covered with furniture, shelving, windows, photos, etc. Sometimes the main color is the curtain or large area rug color.
Choose your Nursery's Furniture Color
The tree trunk in your painting is a great choice for your furniture finish. Dark chocolate, earth brown, white, cool gray, and warm gray match common furniture colors.
---
If the stems in a flower painting are thin or not bold, then you could coordinate with any furniture finish.
---
What if you want a soft look in your nursery, but the tree painting you like has an earth brown trunk. In this case you don't want to add dark wood to your nursery. A soft gray or white furniture finish would be better. You could customize your painting to have a matching trunk. Simply choose the color you want from the Amborela color chart, and request a custom painting.
Choose Your Nursery's Wall Color
An accent color in your painting can make a great choice for your wall color.
---
Choose a neutral tone for your walls if you want flexibility when you redecorate. Ask yourself, "do I want to repaint this room when it's time to transition to a big kid's room décor?"
---
Create contrast between the wall and your art. Choose a wall color that is different in hue or shade than your artwork. If you choose a wall color that is similar to the background in your painting, then the artwork will blend in with the wall too much.
---
A light toned painting stands out against a mid to dark toned wall. And a dark toned painting stands out against a light to mid toned wall.
Take along swatches of your paint colors when you go shopping offline. 
The paint mixes used on your painting will be painted in a gradient on a 3″ X 3″ card and mailed to you. Carry the samples with to your favorite shops for color matching.
Each collection of Amborela nursery art is coordinated in a limited color palette. This allows you to easily find artwork for different spaces in your nursery, and be confident that the colors of the art pieces will match each other. You can also shop by color tones, like pastel, jewel, and neutral tones.
Gathering all your ideas together on Pinterest can be a great tool when planning your nursery. Use your boards as inspiration and as an online shopping list. Add the painting you love to a Pinterest board, and begin pinning coordinating room ideas. Get an easy start by browsing Amborela's curated nursery boards.