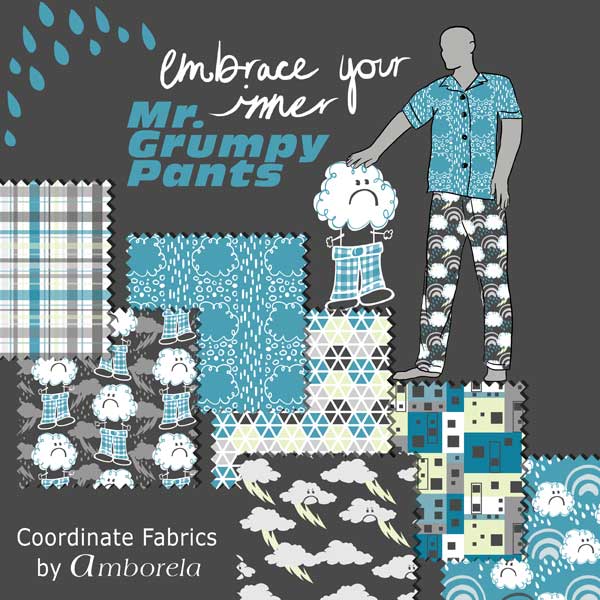 This fun collection of men's apparel fabrics are designed for sewing comfy sleepwear for those stormy days you just want to embrace your inner grumps. Fabrics are scaled specifically for pajama pants and shorts, while wallpaper is scaled much larger. Swatches are available at Spoonflower.
Amborela's Mr. Grumpy pants collection includes coordinates for shirting fabric. Surface patterns include geometric, checks, and madras in electric blue, charcoal, and lime green for men's and boy's apparel. 
The surface patterns in the Mr. Grumpy Pants collection are designed and scaled specifically for sewing whimsical boy's and men's pajama sets. 
Mix and match grumpy cloud coordinates to sew a Father and Son matching set of PJs.
Dark colored fabrics with whimsical Mr. Grumpy Pants sketch and typography for sewing boxer shorts. Multiple scales and coordinates in collection so you can sew a matching set.
Shop Amborela's surface patterns from the Mr. Grumpy Pants collection on coordinate bedding at Spoonflower. Choose from a variety of pillow sizes, bed sheet sets, and duvets.