All the patchwork is already done by the artist before printing these easy to sew baby quilts.  This means you can sew the fabric as a regular blanket, but still get the look of a quilt. Even a beginner can create a keepsake blanket for their little one with 2 yards of fabric a sewing machine and basic thread, needle, etc.
Some people call these cheater quilts, but I think digital patchwork is more like an opportunity to create amazing patterns that wouldn't otherwise be possible.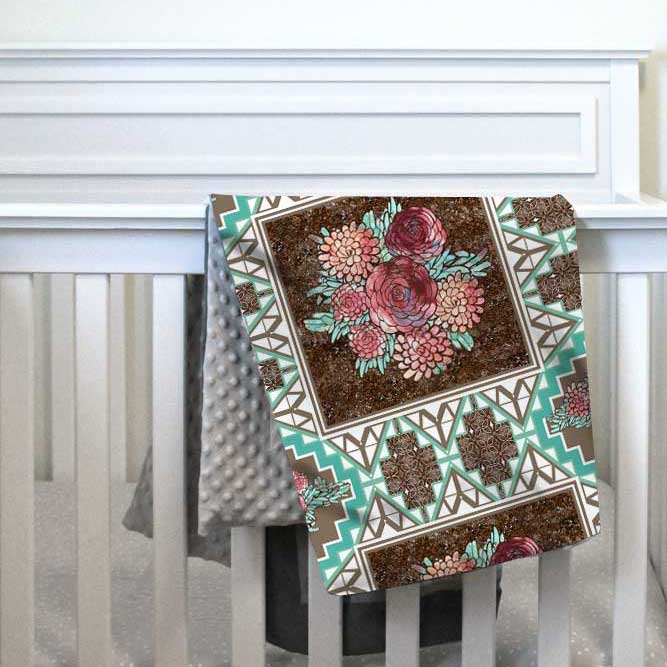 You need:
1 yard of wholecloth quilt fabric
1 yard minky fabric for backing
Lay facing each other the quilt design and the minky backing.
Pin along the edges
Sew along the edges, leaving a 4″ opening
Turn the fabric inside out through the opening
Sew around the outside edge to create a border making sure to close the opening
Watch a video to learn how to sew an easy baby blanket.
Amborela designs baby quilt fabrics in coordinating colorways so you can mix and match as you sew a custom quilt. 
Designs include prints for quilt lattice, quilt blocks, center panels, embroidery cameos, small scale quilt backing and easy sew cheater quilt designs.
Get the look of a star quilt for your nursery without doing any piecework. Amborela makes sewing a baby quilt easy with these cheater star quilt prints in 5 different colorways. Each patch in the quilt comes from a coordinate fabric in the Lotus & Mandala collection so you can match your backing fabric.
Quilt designs have evolved to embrace patterns that wouldn't be feasible or practical in a traditionally pieced quilt. Not bound by the tools of piecework and a sewing machine, the possibilities are intriguing. Amborela's modern style baby quilts print on 1 yard of fabric as a wholecloth quilt rather than repeating like a quilt block. 
Each colorway in Amborela's woodland nursery collection includes a design for a wholecloth baby quilt. Choose from a variety of small, mid, and large scale coordinates for your quilt backing and binding.