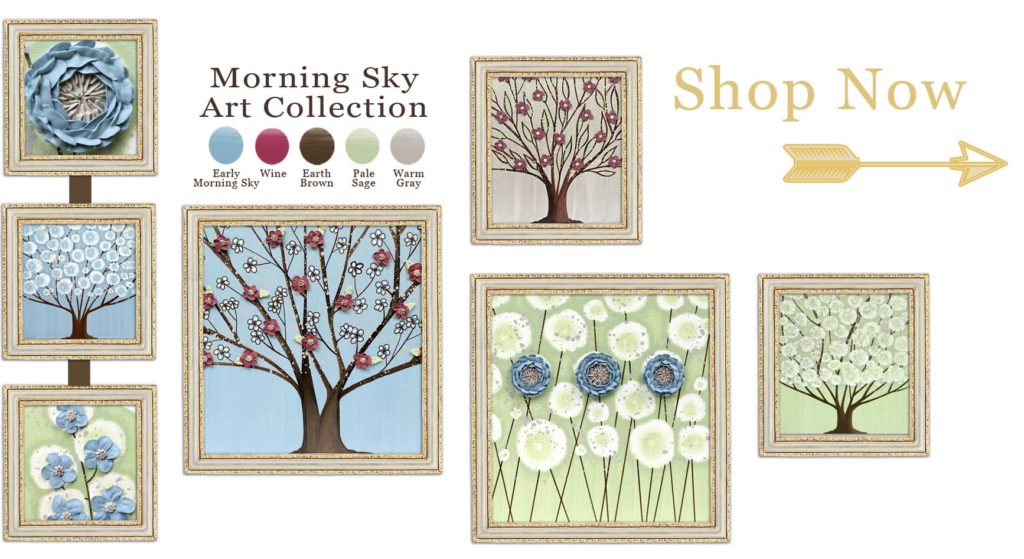 This new collection of wall art introduces new color combinations to the Amborela shop. Colors in this collection include: pale sage green, early morning sky blue, wine red, warm gray, and earth brown.
Two New Tree Designs
Hand-inked flowers and leaves replace the typical watercolor circles used to form the tree tops in most Amborela paintings. This creates the look of a tree in spring with many visible branches. These designs are brand new to the Amborela shop. If you want a new tree design in different colors, contact me to discuss color layouts.
New Sculpted Flower Style
This new style of sculpted flower portrays a peony flower partially opened to reveal the fluffy center petals.
New Canvas Triptych Size
As often requested, I have adapted the popular 10×10 flower paintings to fit on three 20X20 square canvases. Each canvas features three hand-sculpted flowers instead of only one. Any of the small 10×10 flower sets in the Amborela shop can now be adapted to this new 62X20 size.  This extra large size fits above a king size bed, fireplace, or sofa.